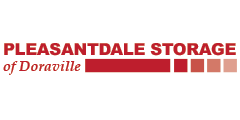 Pleasantdale Storage of Doraville
2370 Pleasantdale Road
Doraville, GA 30340
Office Open Now
50% OFF THE FIRST THREE MONTHS!!!
We look forward to seeing you soon!!!
Property Open with No-Contact Rentals and Payment Options Available
We're sorry.
There's been an error loading units for this facility. Please contact the facility for availability.
Access Hours

Sunday-Saturday:

6:00am to 10:00pm
Office Hours

Monday-Friday:

9:00am to 5:30pm

Saturday:

10:00am to 3:00pm

Sunday:

Closed
Self-Storage Center in Doraville, GA
Whether you need a temporary location to house some of your things while you move or you're looking for a permanent place to put the precious heirloom furniture that won't fit in your house, consider Pleasantdale Storage of Doraville. We proudly provide convenient and affordable self storage to tenants in the Doraville area. When you choose from our wide variety of options, you'll be sure to find a storage solution that suits your needs.
Protect Your Cherished Items
We take special care to keep our premises secure. You can rest assured knowing your unit will be in a fenced and gated area with security cameras recording 24/7. If you plan to store temperature-sensitive items such as instruments or records, we have climate-controlled units available. For our tenants who need long-term parking for vehicles such as boats, RVs, or cars, we offer covered areas of multiple sizes.
Premium Storage Options
We understand that our tenants often have busy schedules and may need to get into their units quickly and easily at odd hours, so we offer 24-hour, drive-up access. If you need to charge power tools or plug in your cell phone while you visit, we have power available in some of our units. Let us know if you'd prefer a unit on the ground floor, and we'll do our best to accommodate you.
We Make Moving Easy
Whether you need packing supplies for your belongings or a truck to transport them in, we have everything you'll require for a hassle-free move. Paying your rent is easy when you use our online platform; you can complete a one-time payment or schedule automatic payments that will go through each time your bill is posted. If you don't currently have a permanent mailing address, we'll accept packages on your behalf and turn them over to you at your earliest convenience. Don't hesitate to ask if you have any questions about our services. One of our extensively trained property managers will be happy to have a discussion with you.
If you're searching for secure self storage in Doraville, GA, Pleasantdale Storage of Doraville has you covered. Call us today to find out what we can do for you.
We will be Closed on Christmas Day 12/25/19, and will reopen the next business Day, operating normal business hours on 12/26/19.