The No-Nonsense Guide to Holiday Decor Storage
December 30, 2019 in Storage Tips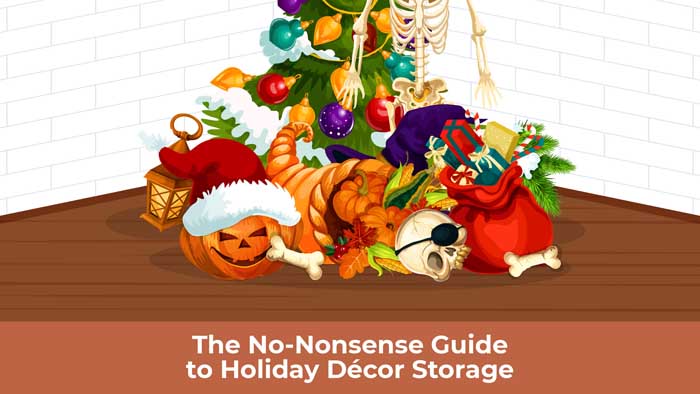 October, November, and December round out the calendar year with a full holiday season, and nothing says holiday celebrations like putting up tons of decorations. Whether you love to turn your home into a creepy catacomb in October, a terrific "Turkey Day" host in November, or a warm and cozy December destination, decking your halls with seasonal decor can be a lot of fun! But what do you do with those decorations once the season is over? How do you move quickly from Halloween to Thanksgiving to other winter holidays without creating a massive clutter problem as you pack and unpack your decorations?
With careful planning, a complete inventory, and the right storage containers, you can keep your scariest Halloween fixtures, fanciest flatware, or most joyful Christmas decorations from becoming a jumbled mess. It's not as scary (or expensive!) as you might think.
Make Your List—and Check It Twice!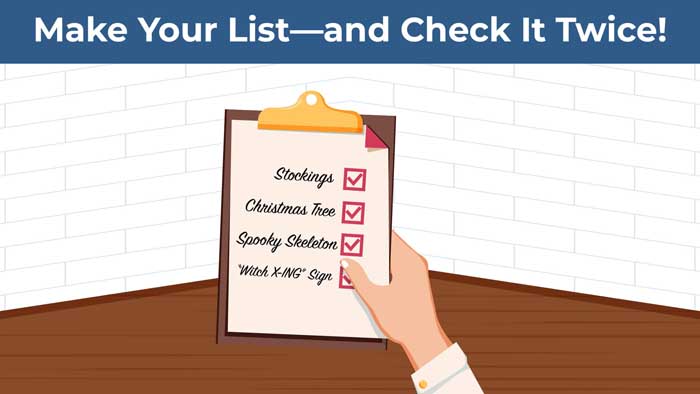 The best way to start organizing your holiday decor—no matter what season you're most excited for—is to make a list as you unpack your decorations. Take note of a few key details for every item you choose to place around your home, including:
What the item is
The container you pulled it from (and where that container currently lives)
Where it's placed in your home during the season
Where it goes when it's time to come down
If you wait until it's time to take down decorations to make your list, there's a good chance you may actually leave something up by accident, lose it, or throw away the box. You can organize your list however you want, but the number-one rule of storage is to take a good inventory and place it somewhere it can be referenced easily. This is especially true if your seasonal items live in a self storage unit.
Another reason to make your list as you decorate your home? When the time comes to take down your elaborate display, you'll already know which box it goes in and where the box should go until it's time to decorate a year from now.
Feel free to expand your inventory beyond just decorations. If you know you'll always need things like additional wine glasses, flatware, or china when hosting a holiday celebration, make sure you're aware of exactly where those items live during the rest of the year so you can find them even easier the next time, especially if they're not already in your kitchen cabinets.
Invest in Reusable Storage Containers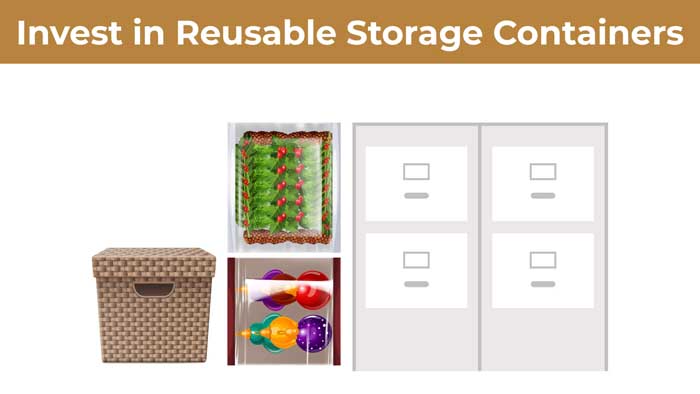 Keeping the original boxes for your holiday decorations is a smart idea—until you're trying to shove a Christmas tree back into a cardboard box for the third or fourth year. Chances are, no amount of tape will keep it closed, and if you do manage to shut it, it won't fit nicely inside the closet. The same could be said for all kinds of holiday decor and furnishings, from dishes, glasses, and flatware to your ceramic candy dishes and ornaments. Boxes, while sturdy, do break down over time, after all. That doesn't even take external factors like weather or temperature change into account.
The best option? Consider buying reusable containers that have a little more support to them, especially for those items that are unwieldy or breakable. Here are some must-haves for putting your decorations away:
Plastic Bins for Window Clings and Decorations
If you like to place clings on your windows for any season, keeping them organized in plastic drawers is a must, especially if you plan on reusing them year after year. In fact, transparent plastic tubs are a fantastic method of storage for just about any decoration because you can tell exactly which items are in which bins. They also have the benefit of being mostly watertight, so you don't have to worry about moisture damage in the event of a basement flood.
Bubble Wrap or Paper for Larger, Breakable Items
Just like packing for a move, breakable items require added padding for protection. Even if an item may not be breakable—like a woven wooden basket for your table's centerpiece—it's worth it to wrap it in paper to keep it from getting scratched by other items in storage. As a general rule, if it's not fabric, give it at least one layer of protection from friction and bumping.
Flatware and Dishes
Investing in quality storage containers for your flatware, dishes, and glassware may feel like more trouble than it's worth, but these sorts of containers really do offer more protection than a standard cardboard box. As an added bonus, you could store them in a semi-open space, such as inside a china cabinet.
Christmas Decorations
Christmas decorations are often some of the most inconvenient things to store by virtue of their size. Instead of trying to cram your tree back into its misshapen box, consider buying a reusable canvas bag or—if the tree is small enough—a large rubber or plastic tub. In addition to being generally watertight (which is especially important if your tree is stored in a basement), these bags and containers have better places to grip. Trees are heavy, after all!
Just like your tree, storing your wreath in a plastic container that is specifically shaped for it can go a long way in increasing its lifespan. We also advise purchasing bags or boxes specifically for ornaments. Those keepsake boxes may be nice, but they won't exactly protect the things inside if they fall from the shelves. One large box with identically shaped sections can pretty much accommodate everything on your tree and eliminate the process of playing Tetris with differently shaped boxes.
Generally speaking, lights can be one of the hardest things to store because of their potential for tangles and broken bulbs. Investing in a few boxes with built-in cable organizers and handles can keep them free of knots.
Additional Items
If space is really at a premium in your closet, attic, or basement, consider using vacuum-sealed bags to eliminate as much space as possible for your fabric items like stockings, fabric pennants or flags, and garlands. Then place them flat in drawers or bins.
Use External Self Storage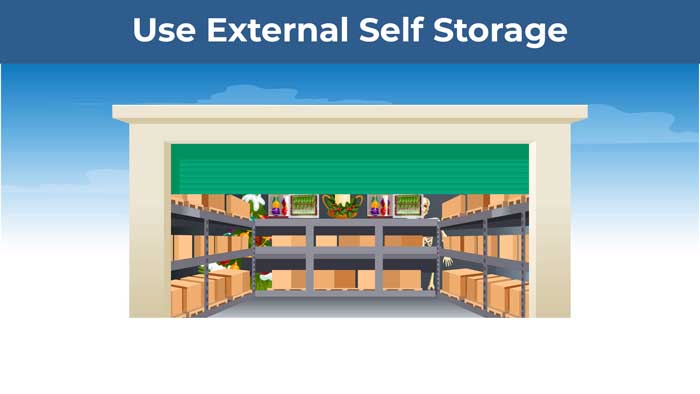 At this point, you're probably wondering where all these containers of decorations should go. Self storage is an excellent solution! Instead of stacking boxes, bins, and bags in your closet, attic, or basement, consider placing the largest items in a self storage unit. In fact, many self storage facilities have smaller units that are sized with holiday decorations in mind.
Many of the storage facilities managed by Absolute Self Storage are equipped to handle your holiday decorations. Regardless of the season, whether you're as festive as Clark Griswold or as loathe to decorate as Ebenezer Scrooge, there is a self storage unit to accommodate all of your decorations. Visit a location near you or search for a unit online to get started today.
LOOKING FOR A COMPANY TO MANAGE YOUR SELF STORAGE PROPERTY?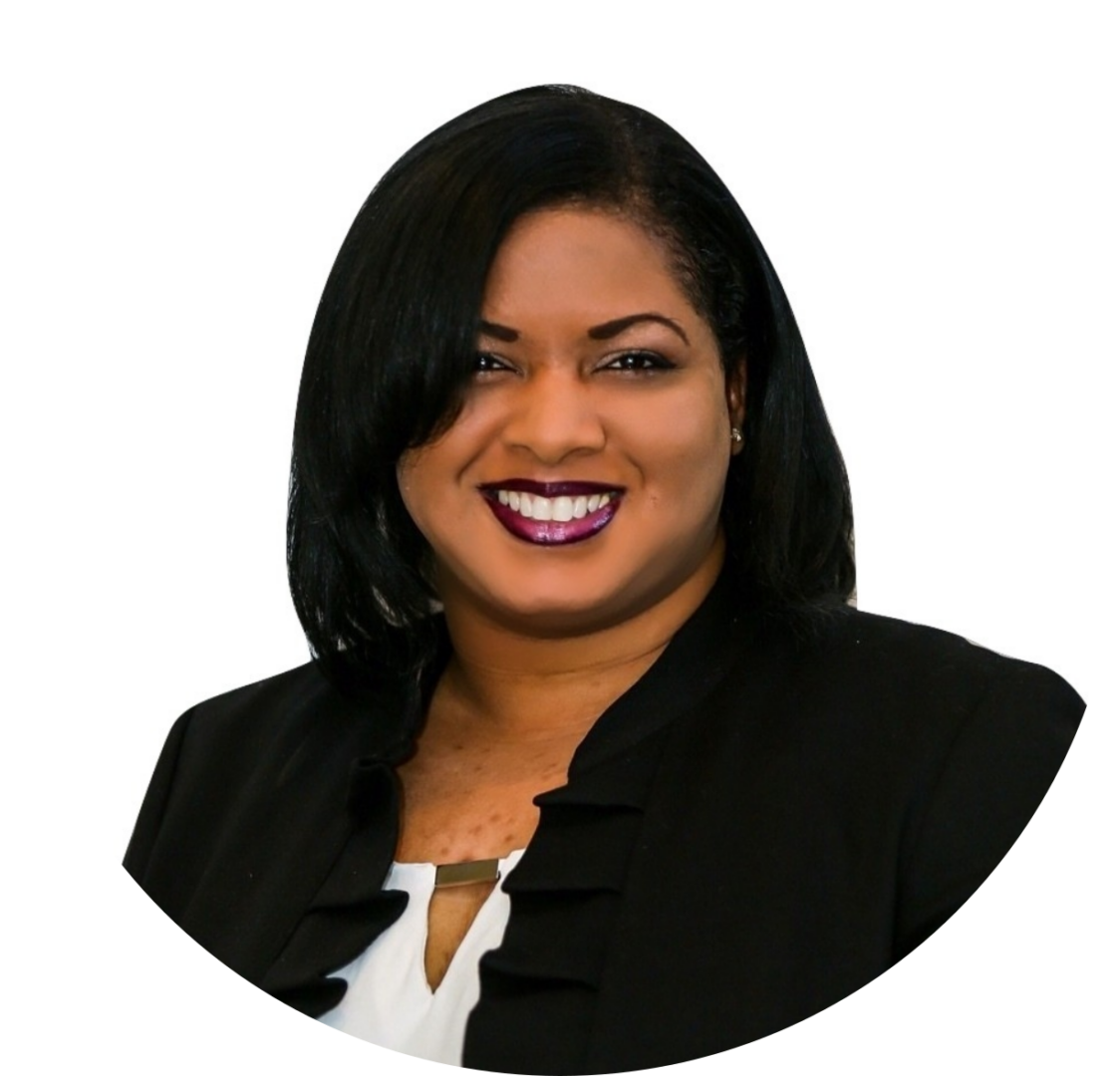 Contact Jasmin Jones
---
RECENT POSTS